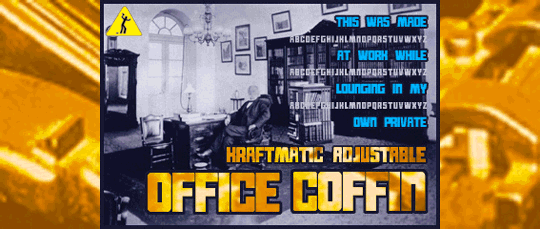 So here I sit, staring at the monitor, chipping away
at the workload,knocking away, stabbing and stabbing;
so many violent metaphors, yet the only thing I'm killing
are brain cells.
For all of those who have ever felt the paralyzing
striken pain of migraine psychosis, having your eyeballs
forcefully ejected from your face as your brain exerts
pressure through the optic nerve, I offer the Kraftmatic
Adjustable Office Coffin. After a hard day at the office
I like to pour myself a nice tall one, relax into my faux
leather Gucci recliner and enjoy a nice soft-edged font
face. Something both easy on the retinas and the neurons.
---
Clickhere to download Truetype Office Coffin for Mac.
Click here to download Truetype Office Coffin for Windows.
---
BACK TO FONTS