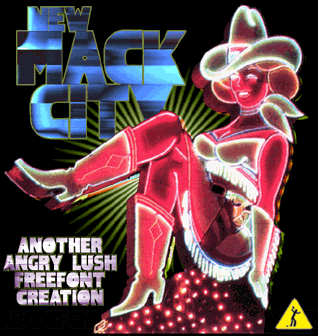 This font began after a long hard night of vile absurdity
and didn't work out exactly as anticipated. And as the
strength drained from my limbs, I decided it was better
to concede defeat; to chalk this one up to bad karma.
My opinion began to shrink as my ennui began to grow and
I was transported to a far off land, to a city wholly
original, to Vegas. The city that works twenty-four hours
scraping away at the insatiable American apetite for,
well, everything. A city where all the rules of social
fair play and common sense lay dead and disgarded along
the city limits.
In essence, as the clock hit four and the alcohol dried
up, sitting there trying my damnedest in my atrophied
state to pull this one out of the fire, I began to feel
at one with the notion of "humping the American Dream"
without leaving the ass-warmed contours of my chair.
Thanks for the memories Mister T.
---
Clickhere to download Truetype New Mack City for Mac.
Click here to download Truetype New Mack City for Windows.
---
BACK TO FONTS